First days on new the job can be a little scary for everyone, but in this case, they had me come in before my first day to get introduced to the people that work in the building. They seemed like very friendly, cool and welcoming people, which made me feel more excited than intimidated.
Things I Learned During My Practicum
Doing graphic design at Whipcord was really fun and creative, I liked doing the requested designs they asked for. Levi guided me on the standards of the Whipcord branding, which helped me a lot and made it easy to design while still being able to meet the requirements.
I learned that although it's my creation, you must of course meet expectations and it doesn't always have to be anything too complex; it could be simple and fast. As time went by I started to get the hang of the graphics requests, and I was able to accomplish what they wanted. Another thing I learned during my practicum was to communicate, as having a good atmosphere in the work place makes your daily job interesting and not boring.
I thought the most challenging part of my practicum was going to be fitting in and getting to know my coworkers, but that actually turned out to be the easiest part. They were super friendly and welcoming. Another challenge I faced at the beginning was I found my brain locked. What I mean by that is that I felt like when they requested a graphic, I kept thinking they might want it in a specific way and/or it wouldn't be what they wanted. However, as I kept doing more graphics I realized I just had to let my brain be creative and let the ideas flow. I also learned to ask for feedback, as sometimes the product doesn't come out 100% perfect and you will learn from the feedback provided.
Working in the Tech Industry
I had the opportunity to have a tour in the building where they keep all the servers - that place is huge! When I asked the NOC for their craziest and coolest tech fact, their consensus was that their data centre's cooling system is the craziest/coolest tech fact at Whipcord. Literally and figuratively.
Not only are their cooling systems fully redundant, but they also have a special cooling system that allows them to take advantage of the cold winter air in Alberta for more energy efficiency (and therefore eco-friendly) cooling, whenever the outdoor temperatures drop below 5 celsius.
They run normal air conditioners in the summer to cool the building's glycol liquid cooling loops, but they have a second set of "dry coolers" that are basically just the fan part of an air conditioner without the refrigeration compressors - they blow the cold outdoor air over the liquid cooling loop, which cools it down just as effectively as an air conditioner would, as the air outside is below 5 celsius.
Being on the Whipcord Team
These past few months have being great working at Whipcord with my coworkers. The time has gone by quickly working here and the environment of the work place is amazing.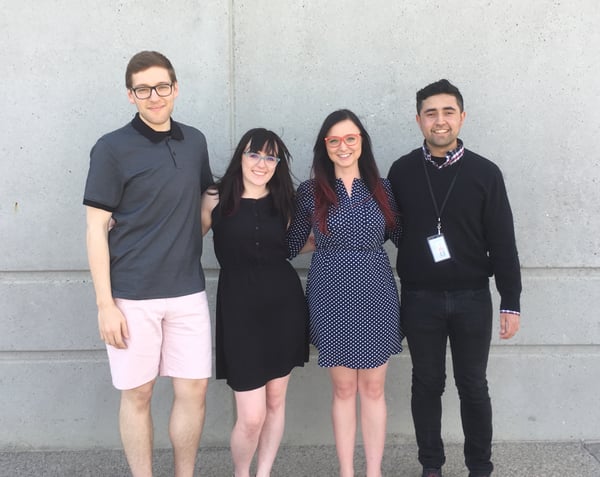 It was very nice having an understanding boss, such as Melanie; there were times that I was unable to come in because of school, but she was always understanding if I couldn't go in. Working for Whipcord gave me experience in the graphic design field and gave me a lot confidence for a future career. Not only did I learn about graphic design, but also what others in the company do, which helped me understand what other want or are doing. In the company, everyone contributes content so that either Levi (Graphic Designer) or Sasha (Technical Copywriter) know what they have to deliver, e.g. blogs, updating the website, or any other requests. Also, Melanie (Marketing & Communications Manager) stays on her toes and makes sure everything gets done/delivered or if there's a project that needs to be done, she will let them know.
Overall, I had an amazing time being part of the Whipcord team for the past few months – I received good feedback, new friends and the most important thing, good memories. I'm thankful for the opportunity they gave me to work here.
After I graduate I don't have any solid plans - I might go back to school in the fall. But during the summer time I want to work in the multimedia field and I'd like to work with video editing or as a graphic designer. Working at Whipcord made me feel really excited to work in the field and it makes me look forward to my multimedia career.