Hey! My name is Jessie Carpenter and I'm here to help Karla crunch the numbers as the newest addition to the Accounting Team; I'm closing in on my third month at Whipcord and am so happy to be here. I like to work hard while having fun and Whipcord has given me the ideal work/life balance to achieve that.
I've been a resident of Lethbridge most of my life with a brief period in Southern California and Calgary. But, after realizing Calgary didn't get chinooks and was much colder than Lethbridge I decided to move back home after college. I graduated from SAIT and, fun fact, my original background is in graphic design.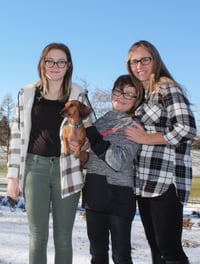 I'm a mom to a 14 and 11-year-old, which keeps me busy as a voluntold taxi driver between the hockey rink, ball diamond, soccer field and mall. We've recently rescued a spicy little dog to our family named Roxi and I'm convinced she ran away from her last home because she felt she deserved a better one.
It doesn't matter the season, the mountains are where you'll usually find me in my free time, paddle boarding, hiking and snow shoeing! I've recently found my love of travel again and have been to Thailand, Singapore, Kuala Lumpur, Prague, London, Venice, Rome and Croatia.
With my need to be challenged in my work, I look forward to helping Whipcord tackle any new obstacles that may arise as we grow.
Want to get to know more of our staff? Keep an eye on our new Lifestyle Series by subscribing to our blog!