Hi, I'm Matt Coutts, the Program Manager, Agriculture at Whipcord. I grew up in Kindersley, SK working on my family's farm and am excited to continue my career in agriculture with Whipcord. I was previously the CEO of First Pass Technologies and joined Whipcord in connection with the merger of First Pass into Whipcord. I'm very excited about bringing the strengths of the two companies together to advance our combined agriculture strategy! My experience growing up on a farm coupled with my education gives me the well-rounded knowledge and perspective of the industry to help drive Whipcord's technology into agriculture.
I've witnessed the evolution and growth of farms along with the new challenges that arise in an era of increased technology in farming. I'm passionate about bringing value to the agriculture sector including the opportunity to help farmers be more profitable, while also providing a larger economic and social good like the reduction of CO2 emissions from using First Pass. With this passion, I'm excited about contributing to the growth of Whipcord's technologies and products in the agriculture sector, including bringing those technologies to farmers' fields.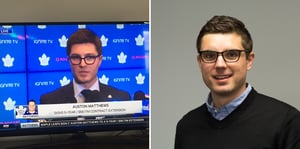 In my spare time I enjoy spending time with my fiancée, exercising, reading books about business or biographies and playing hockey and tennis. An interesting fact about me is that I have a doppelgänger; the Maple Leafs' GM, Kyle Dubas! One thing this means is that people often yell at me on the street in Toronto!
Want to get to know more of our staff? Keep an eye on our new Lifestyle Series by subscribing to our blog!