Tired of Swapping Tapes or Disks?
Whipcord Edge and VEEAM Cloud Connect provides a secure off-site copy of your backups. Locating your backups in the Whipcord Edge cloud also makes them much more useful in the event of a disaster since we can restore them in our private cloud infrastructure.
In addition to backups, Whipcord Edge can also provide full Disaster Recovery as a Service (DRaaS) using VEEAM Cloud Connect Replication. These services provides high performance storage and guaranteed reserved compute resources for fast recovery from disasters.
It's easy as 1-2-3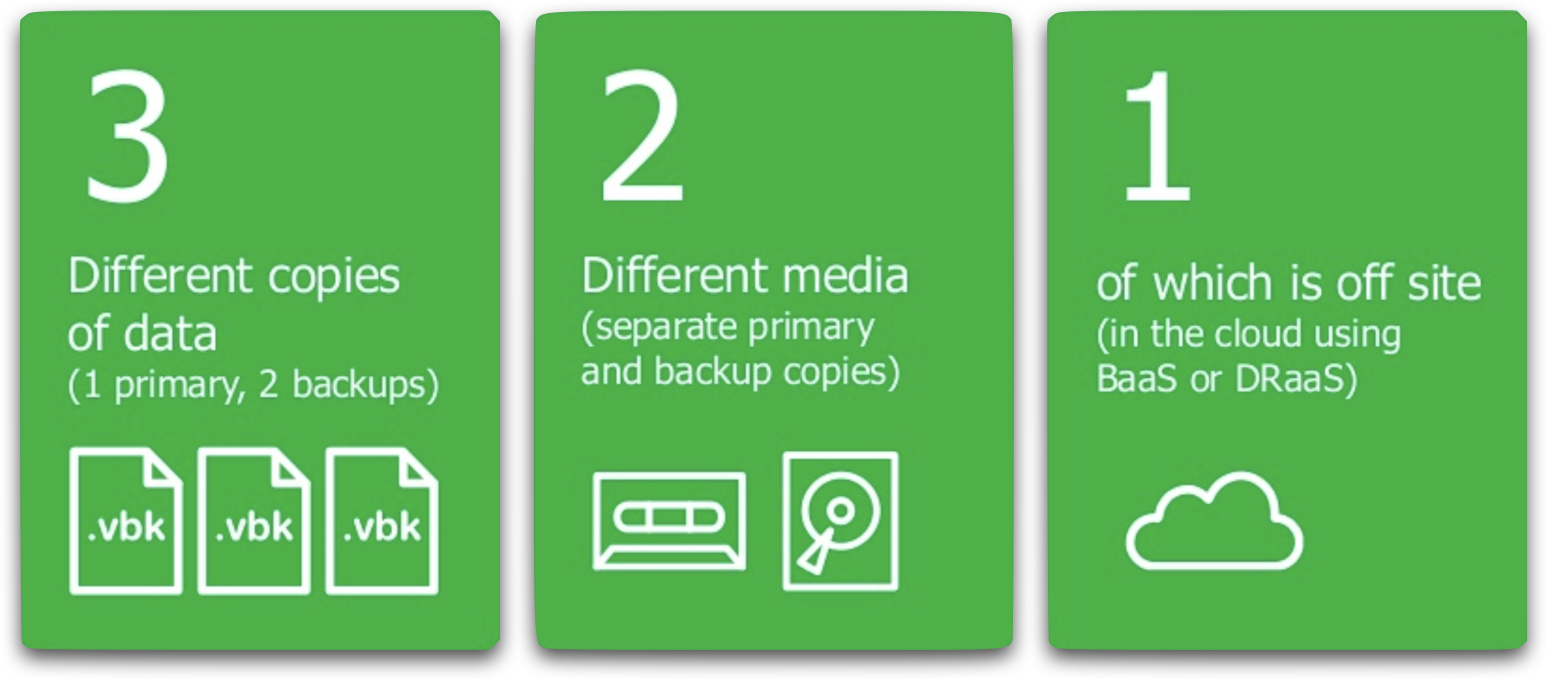 Best practices suggest that you should keep three copies of your important data.
The 3-2-1 backup rule is an easy way to remember best practices for protecting your important data. The rule is: Keep three (3) copies of your data, and store two (2) backup copies on different storage media, with one (1) of them located offsite. Whipcord helps with the offsite storage.
Whipcord Edge is ready to help with build your backup, replication and disaster recovery solutions.
How it works

Whipcord Edge leverages VEEAM Cloud Connect solution to provide secure, encrypted cloud backups over an Internet connection using a single TCP porch. No VPN is required. Cloud connect is built in to VEEAM and is just as easy to use as backing up to a local VEEAM repository.
Whipcord Edge Insider Protection
VEEAM Insider Protection Provides an additional layer of data security. It functions as a "recycle bin", ensuring that any deletion of Proud backups (either accidental or malicious) does not result in data loss. Delete it back ups are first moved to a recycling bin where they remain available for a specified time before being deleted, allowing to deleted backups to be restored.


Pricing
Pricing model:
Whipcord Edge bills you only for the storage that you actually use plus the cost of the VEEAM licenses. Simple to understand and no surprises.
Pay only for the storage you actually use -

NO

storage reservation model
Flat pricing for the volume of data
Discounts based on term of contract
Billed monthly