Veeam Backup for Microsoft Office 365
It's your data - you control it - and it's your responsibility to protect it
Microsoft Office 365 enables your Always-On Enterprise™ to work anywhere, anytime, without the need to host your own email infrastructure. It also provides a great way to minimize your on-premises footprint and free up IT resources. Even though Microsoft hosts the infrastructure, this doesn't replace your responsibility to maintain a backup of your Office 365 data.
With Veeam Backup for Microsoft Office 365, you can:
Take control of your organization's Office 365 data
Reduce the time and effort needed to find and restore email data
Protect against data loss scenarios that are not covered by Microsoft
Facilitate the migration of email data between Office 365 and on-premises Exchange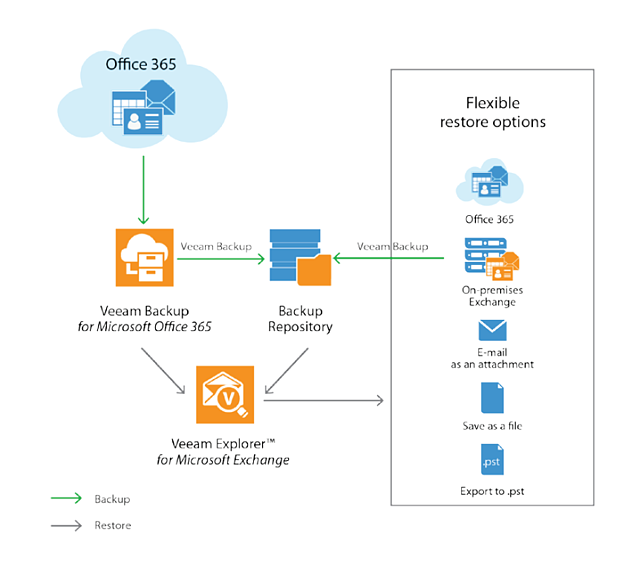 Features:
Backup Office 365 and Exchange on-premise
Restore Office 365 email, calendars and contacts
eDiscovery of Office 365 email archives
Key challenges that Veeam Backup for Microsoft 365 Solves:
Allows back up of all messages to an on-premises Veeam Backup & Replication repository for long-term archival, search and restore
Cost savings by allowing organizations to archive old data out of a user's online mailbox and onto inexpensive on-premises storage
You can save time and money by not needing to purchase more mailbox space - Simply archive old data out of the online mailbox onto inexpensive on-premises storage.
Interested in this NEW Veeam Product? Fill out the form to the right to speak to your regional sales representative!