The rate of cloud adoption will continue to rise in 2019 and be harder to ignore as more CIOs are challenged by the enormous costs of managing infrastructure while dealing with the high costs of delivering availability, security and performance. With a booming economy, enterprises will often overlook inefficiencies and real infrastructure costs because they don't have to worry about it at the time. However, forward-looking CIOs will start preparing for the inevitable downturn by focusing on reigning in costs and reducing operational risk, while delivering a superior experience to their customers.
Global spending on cloud services and infrastructure is on the rise and expected to reach $160B by the end of this year. With a 23% increase from 2017, that number will continue to rise to $277B by 2021.
According to IDC, the following industries are forecasted to spend the most on public cloud services this year:

Organizations within those industries are also expected to leverage cloud services to build third platform solutions like the Internet of Things (IoT) and big data and analytics.
By leveraging this technology to enhance and optimize customer journeys, these businesses can also lower their operational expenses. This will provide an excellent opportunity to dominate the market (within their niche) in 2019 and beyond.
What else can we expect in the new year? Here are the top five cloud computing trends that you should look out for in 2019!
1. QUANTUM COMPUTING IS NEAR
We've been talking about quantum computing for several years, but until recently, it didn't feel like it was going to be reality. However, as the race for cloud supremacy heats up, we're getting pretty close to realizing the dream as the top tech giants work around the clock to build the first quantum computer. If they achieve that, we will soon be solving complex medical issues, making better financial models and even having human-like interactions with artificial intelligence.
Last November, we saw the world's fastest publicly available quantum computing platform with IBM's 20-qubit cloud computer with 2019 promising to deliver a whole lot more within the quantum computing space that can revolutionize cloud services and solutions.
2. CLOUD SERVICES AND SOLUTIONS WILL GROW
In the new year, you can expect a lot more enterprises to be offering more cloud services and solutions including: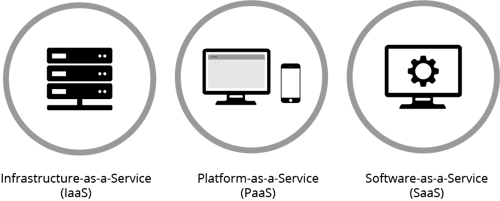 Experts at Bain & Company expect an explosion of cloud services in the near future. In fact, they predict subscription-based SaaS will grow by 18% Compound Annual Growth Rate (CAGR) by 2020.
According to KPMG, PaaS will grow from 32% in 2016 to 56% by the end of 2019, making it the fastest-growing segment within cloud platforms. So we'll start to see more and more enterprises having adopted greater comfort with being on the cloud via their use of these solutions.
3. SECURITY & COMPLIANCE WILL BE CRITICAL
As more businesses migrate to the cloud, it places even greater pressure on security and compliance.
As security around the cloud will be iterating and optimizing, there will be an opportunity for hackers to breach the system and steal valuable databases or source codes to sell on the dark web.
Security will also continue to be a significant concern as a simple misconfiguration can have serious consequences. This is evidenced by a recent Amazon S3 bucket misconfiguration that left 48 million records containing personal information scraped from social media sites highly exposed. If you're in a highly regulated industry like healthcare or banking, the fallout from such an incident can have a massive impact on daily operations and your bottom line.
To ensure compliance, cloud security should be approached from many fronts. For example, enterprises will need to start using built-in controls like identity access management, network security groups, and gateway network firewalls with new computational models (like containers and serverless computing).
As governments start recognizing the risk, cloud computing will become highly regulated. This year we saw the General Data Protection Regulation come into effect in Europe, but this is probably just the beginning.
4. HYBRID CLOUD SOLUTIONS WILL BE OMNIPRESENT
If your business has engaged in a digital transformation, you'll already know that it can be highly challenging to make a complete transition to the cloud. As a result, hybrid clouds have become an attractive solution to this problem.
In 2019, you can expect a lot more hybrid cloud solutions that will enable businesses to make the transition at their own pace. This will allow them to reduce risk, while cost-effectively accessing efficiency and scalability.
5. CLOUD USERS WILL CONTINUE TO BE THE WEAKEST LINK
Whether it's AWS, Azure or Oracle, leading cloud providers and their platforms have generally been safe. These clouds feature the best firewalls and their data centers are protected like fortresses.
However, the human factor will continue to be the weakest link. As mentioned before, misconfigurations can happen and this could lead to systems being down for hours or even days. If your systems are down then you can't ensure business continuity, which will lead to significant losses and damage your brand reputation. However, although there are a lot of tools to help negate human error, we can certainly expect to hear about more incidents in the new year.
Want to learn more about the cloud? Subscribe to our blog!