The Veeam ® Availability Platform enables businesses of all sizes to ensure Availability for virtual, physical and cloud-based workloads. Veeam, through Whipcord, is offering free licences with only storage costs until December 31, 2017.
The two new technologies worth looking at:
Agents for Microsoft Windows and Linux
Cloud Connect Backup for Service Providers for servers and workstations
In the near future, Veeam Backup for Microsoft Office 365 will also be available.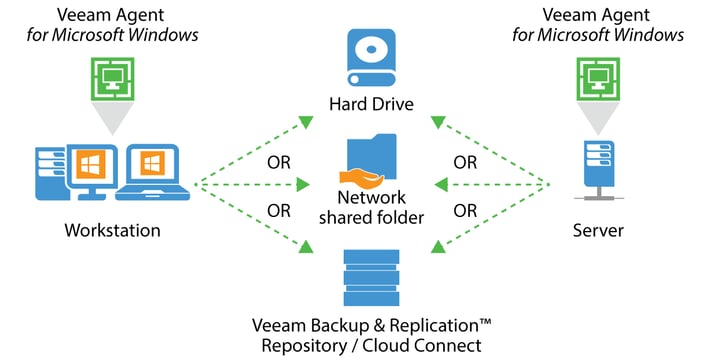 Prior to this new technology Veam only backed up virtual servers, leaving you to find another solution for physical servers. Veeam, through Whipcord, can now backup everything in your enterprise; physical, virtual and desktops.
If you're a current Veeam customer you can take advantage of this promotion, which is not only easy to install, but also works with the current Veeam technologies: Backup & Replication, Availability Suite and Backup Essentials.
---
Reliable, Easy to Use, Backup and Replication Solutions
Veeam Cloud Connect is a highly reliable and successful disaster recovery strategy. Veeam Cloud Connect Backup is an easy to use backup repository service. It's a better alternative to storing your backups without worrying about the cost and maintenance associated with having your own resources. You leverage our services so we can build and manage the site for you.
Veeam Cloud Connect Replication offers the best protection against equipment failure or a site-wide disaster; it's easy to set up and maintain a secure multi-tenant environment for hosting standby virtual machines.
---
Why take advantage of our Veeam Cloud Connect through Whipcord?
Cost: use our hardware and pay-as-you-go
Security: Control your own data
More resources: Let us take some of the responsibility, so your team is available for other projects
Automate it: Easily extend availability to the cloud
Control it: control the replication and when/how long they are spun up
Reduce Risk: Reduced risks with major upgrades of either hardware/software
Test it: Replicas can be used as a test/dev for upgrades
Whipcord was Veeam's Canadian launch partner in 2014 and are their preferred partner in western Canada – one of only 3 nationwide. Your data stays in Canada and is reseller compatible though Whipcord. Now is a good time to take advantage of this offer if you've been considering upgrading your Veeam products.