When you take advantage of colocation you're renting space in a data centre for your servers, storage hardware and network devices, leveraging the facility's resiliency and physical security to provide you the ideal environment for your infrastructure. However, with the rise of cloud services, you may be wondering how colocation is still relevant?

If your servers are currently in-house being managed by your own staff, there are many reasons to consider making the move to colocation in a data centre:
- Outgrowing your in-house server room
- Uptime requirements are too demanding for your current space
- High costs associated with power and cooling upgrades and hiring additional IT staff

Businesses looking to outsource their infrastructure have the same overarching concerns about physical space, security, downtime and costs but colocation does come with its own benefits.
Top 3 Advantages
Higher Reliability
Colocation facilities are designed to support mission-critical applications, offering redundant power and cooling systems that can tolerate component failures, while also allowing for concurrent maintenance without downtime. As your business grows you may find yourself in a position where you lack the capital to upgrade your in-house infrastructure to provide adequate uptime.

As part of our Service Level Agreement at Whipcord, we offer redundant power with a 100% guarantee.
Increased Connectivity
Data Centres offer a faster and more reliable Internet connection than what's available to businesses, with higher bandwidth. Off-site colocation also gives you the ability to focus on your core business needs, while we keep your infrastructure running in a world-class facility.

At Whipcord, we offer multiple diverse fibre paths and cross-connections to multiple carriers as well as our own multi-homed BGP Internet services. We also offer dedicated private Ethernet and Wavelength services anywhere in Canada or around the world.
Improved Physical Security
Colocation facilities are designed to protect your servers and data, backed by industry standards. It offers enhanced physical security with electronic access controls, 2-factor authentication, multiple security zones with interlocks, video surveillance and individually secured racks.

Whipcord's Tier 3 designed data centre is SOC 2 certified and located in a very low risk location. Our dedicated, purpose-built facility provides the most effective physical security and is also monitored 24x7 by our highly skilled and specialized staff in our Network Operations Centre (NOC). We also offer additional benefits: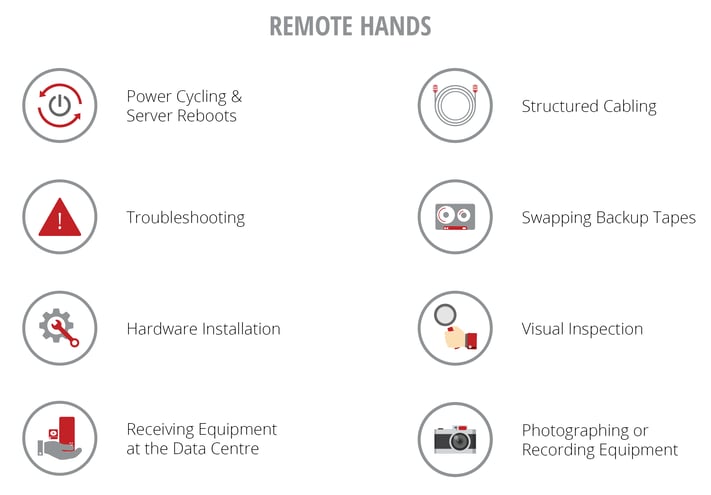 Leverage the Cloud with a Hybrid Solution
When making the move to out-of-house colocation, it's important to consider what other complementary services the facility provides. At Whipcord, we offer colocation, cloud and disaster recovery solutions in addition to reliable network services. Multiple services under one roof give you the most options over time as you scale-up and consider other avenues, like transitioning to the cloud. Our colocation/cloud hybrid solution offers you high-performance private connectivity to our multi tenant cloud environment. What this means is, you spin up virtual machines in the cloud on the same private network as your physical equipment for a seamless and scalable solution.