---
BUILDING A STRONG PARTNERSHIP THROUGH IaaS
Wolf Creek Public Schools (WCPS) is a leading school division in Alberta for using technology to enhance student learning to meet the needs of staff, students and their parents
Whipcord specializes in colocation, Infrastructure as a Service (IaaS), backup & disaster recovery and connectivity
---
Wolf Creek Public Schools has a long standing reputation for being a leader in the province for new and innovative uses of technology that are cost effective, aligned and well supported. When examining an upcoming refresh of dated infrastructure, Wolf Creek looked into a number of potential options for infrastructure renewal.

The existing approaches had served the school district well for over a decade, however, over recent years new technologies have emerged which provided new opportunities for consideration. Research and discussion by the lead team in WCPS Technology Services unveiled new choices for handling infrastructure renewal in the areas of hardware decisions, location of hardware and financial cost factors.

With the emergence of these new opportunities, WCPS made the decision to look at various options for alternate delivery of infrastructure services while building a strong case for addressing disaster recovery planning. Their primary goal was to consider cloud computing options through IaaS.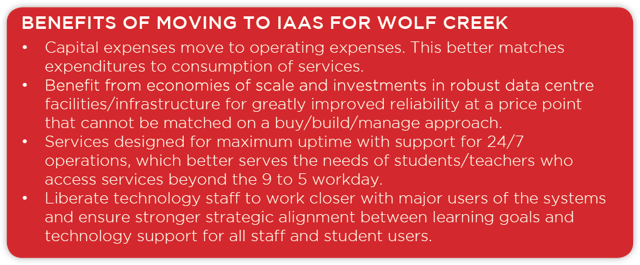 After evaluating several available options, reviewing responses to project proposals and visiting several sites in person to examine the potential support and service models, WCPS selected Whipcord to be their IaaS partner.

The on-site visit by the lead team in WCPS to Whipcord's flagship data centre and discussions with Whipcord's leadership team confirmed that Whipcord matched the technical, cost and collaborative expectations that WCPS was looking for within a partnership arrangement.
---

In the few months since contract signing, Wolf Creek has migrated from an in-house infrastructure to Whipcord. Want to learn more about how Whipcord can create a custom solution for your business or organization?