If you're a business searching for a solution that offers more reliability during times of uncertainty, then you're not alone. Everyday it seems like there's another report predicting those uncertain times are increasing, with outages being "bound to continue as extreme weather events become more frequent and severe." Hearing about how BC Hydro's customer outages have tripled in the past 5 years, the luxury of a Disaster Recovery (DR) solution has now become a necessity.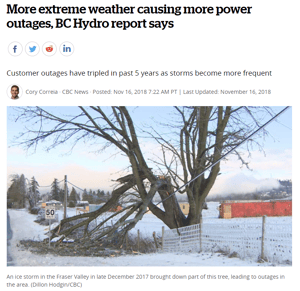 When talking about British Columbia specifically, one thing that comes to mind is earthquakes. Some of the world's largest earthquakes have occurred in that region and research shows there's a "1 in 4 chance that we will have another major earthquake within the next 50 years."
Can Your Business Afford Downtime?
Disaster doesn't discriminate; it affects all business types and depending on your company size, every hour of downtime can result in a minimum loss of $50,000. Having a contingency plan in place can be the difference between your business surviving or closing indefinitely! Do you know your company's plan? If not, you might not have one!
However, money isn't the only loss you'll incur during downtime; every minute, hour and day your business is not running you're also losing reputation and clients. DR plans are like insurance, you never need it until you need it. Finding an experienced IT partner will offer your team a more diversified and complimentary skill set, which will always be of benefit to your company, without the added cost of additional employees.
Why Turnkey is Key
Do you know how much it costs your business to be down or how much data can you afford to lose? How about how frequently you need backups or if you should be utilizing replication?
As companies search for a DR solution that's easy to implement and use, while also offering reliability during those times of uncertainty, you might be wondering if that even exists; and it does! An effective solution requires not just a copy of your data, but also off-site infrastructure on which to run your business in the event of a disaster.
What Service is Right for you?

Disaster Recovery as a Service (DRaaS) is a turnkey solution for businesses looking for minimal changes with big impact – especially on their bottom line. It also provides the most business continuity through the ability to recover servers on an individual or site level, and offers the best protection against equipment failure or a site-wide disaster.
Want to learn more? Reach out to our Regional Sales Representative in British Columbia, Ron Singh to learn more about how Whipcord's Backup & Replication products will add value to your business.