The biggest concern during a disaster is the financial loss that businesses will incur based on their ability to keep recovery time (RTO) low. Larger corporations have the financial resources and staff to reduce downtime, but the statistics for small to medium sized businesses are not as encouraging. It's important to have a plan in case of disaster – which can be anything from a natural disaster to an internal failure. But, the decision on which service to utilize will depend on your in-house IT specialists so before making your decision you'll want to consider your available resources, risks and the subsequent financial losses you may face.
The Top Business Outages
Hardware failure
Loss of power
Software failure
Security breaches
---
Top Sources of Financial Loss
Downtime
During a disaster, companies can lose up to hundreds of thousands of dollars. Unplanned downtime affects your profitability because not only are you non-operational, but it increases the chances that your current and potential clients will go elsewhere.

Two Types of Downtime:
Hard downtime: your entire operations are down
Soft downtime: Your performance is reduced
The most common type of downtime is due to hardware failure, followed by software crashes, natural disasters and human errors. Any type of downtime, planned or not, can result in financial loss and to mitigate that risk you should effectively communicate with your clients on your processes and uptime, which is a good reason to have a plan in place.
Re-allocation of resources
In the event of a disaster your resources are no longer being used towards your daily operations and instead go towards restoring assets. This is especially crippling to small businesses because, unlike a large corporation, there is no other location or employees to continue business as normal while they're down. You may be faced with replacing damaged equipment, which can result in huge financial losses depending on how much of your infrastructure is on-site. To mitigate this risk, utilize the cloud and replication as a safety net. If your VM goes down, you can failover to a replica, giving users access to the services and applications they need with minimum disruption while you resolve the issue.
Damage to reputation
If your employees and clients lose confidence in your business and abilities they may start looking elsewhere. Here are three ways your reputation is at risk:
Ethical Lapses: Unfortunately, outages can be caused by human error. You should have a strong set of values and protocols in place to mitigate that risk as your employees have access to sensitive data. Whether accidental or malicious, your reputation could be damaged if there are internal ethical questions.
Environmental Sustainability: This trend is onwards and upwards as people are looking to support businesses, not only based on their services but their affects within the community. Something like outsourcing to the cloud not only increases up-time in the event of a disaster, but there was a study that found "cloud adoption can cut energy use and carbon emissions by 60-90% in mid-sized firms compared to on-premise IT infrastructures."
Security Issues: Your clients expect their personal information to be protected. Unfortunately, hardware and software failures, along with cybersecurity breaches can put your reputation at risk. Having a disaster recovery plan in place will increase confidence for yourself and your clients.
What Service is Right for you?
It's important to know how much stress you can manage during a disaster based on the time, energy and technical burden you or your team can take when making your decision of which service is right for you. In 2014, EMC Corporations released a global data protection study that said, "most companies are using backup as their primary protection strategy." Of those, 42% are still using tape backup with 33% using an automatic cloud backup. The problem with tape storage is that it can be negatively impacted by the environment, such as air-borne contaminants or even the temperature.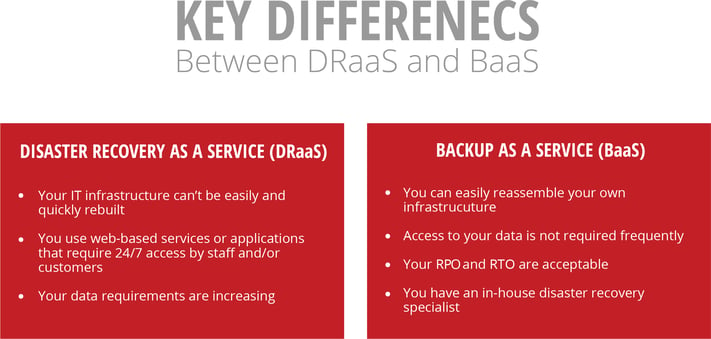 Although having BaaS is a cost-effective solution, it's important to weigh the costs of a disaster recovery solution with the financial loss you would experience during downtime. DRaaS also provides the most business continuity through the ability to recover servers on an individual or site level and offers the best protection against equipment failure or a site-wide disaster. Download a PDF version of the differences below!