At Whipcord we're proud of our talented team - from the members of our Network Operations Centre (NOC) to our front-line sales team, we work hard to provide our clients with comprehensive high touch service. Today we're featuring a newer member of our NOC who was integral in developing our new Bandwidth Accounting System.
Why Bandwidth Accounting?
Since Whipcord offers pay-as-you-go billing, it's extremely important that we have a good system to keep track of usage. Bandwidth Accounting is a tool used to support our usage billing, which we're currently in the process of implementing.
New System features:
Collects network statistics from Whipcord routers
Generates monthly customer overage reports
Produces on-demand usage reports
Exports data as PDF and Excel documents
Makes data available to other automation systems
Community Support
Our System Administrator Lee Mosemann was officially welcomed to the Whipcord team in June of this year. Lee is a graduate of Lethbridge College's Computer Information Technology program and completed his field work at Whipcord. He was the team lead for his Capstone and created a system, now known as Bandwidth Accounting System Enterprise Edition (BASEE). The successful system processes millions of records in real-time and generates PDF and Excel reports from the data on demand. Once handed over to Whipcord it was transitioned to an ongoing agile development project and has accumulated an additional 128 source code commits - adding new features such as emailed notifications of errors, single sign on and faster data processing.
System Goals:
Make the billing process easier
Save time while doing weekly data reports
Provide flexibility in billing
Give better insight into customer usage of our services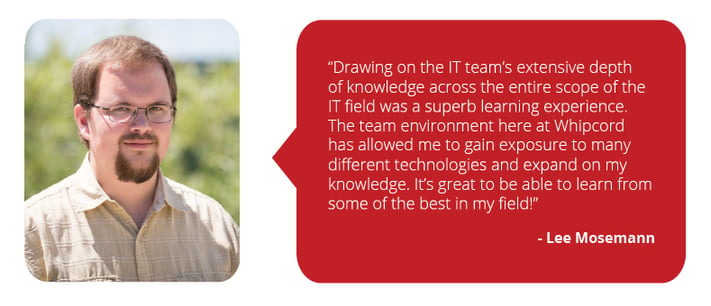 Thanks Lee for being an innovative member of our team! Do you love working in an environment that fosters new ideas? We're always looking for new talent to join the Whipcord team, visit our careers page and apply today!