When searching for a provider to outsource your infrastructure to, the cloud is an attractive option for most businesses, but not every organization is ready to make that leap. A data centre exists to protect equipment and data while offering cost-efficient solutions with higher reliability, increased connectivity and improved physical security.
Top 3 Reasons to Consider Off-Site Colocation
Outgrowing Your Physical Space
Running your own data centre is a good option for large corporations that have the resources and capital to maintain and manage it, however, the costs associated with maintaining your own servers on-site is substantial and doesn't provide the flexibility to scale up as you grow. Maintaining a data centre also detracts from your core business objectives and likely doesn't provide the same uptime as a commercial facility. If you're outgrowing your space, then consider these key components:
Cost Containment: Aside from the obvious costs like real estate and your utility bill, consider the cost reductions in staffing. Do you have someone available 24x7x365 to maintain your facility? How much of your staff's time is spent on managing your servers? Adequate cooling, power, bandwidth and physical security also account for a significant amount of your annual capital.
Reliability: Most data centres come equipped with a talented team of IT specialists that are always available with a remote hands service, allowing you to focus on your business while they keep your infrastructure running with redundant power and cooling that exceeds industry standards.
Leveraging New Hardware
You may be in the market for new hardware to keep up with the demand of a growing business or because it was outdated and needed to be replaced, which is a perfect time to pursue colocation. The biggest advantage is the seamless transition to cloud services once your infrastructure is in a facility that offers multiple products:
IaaS solutions: Taking the leap to off-site colocation comes with partnership benefits – you're not just storing your servers in a facility; a data centre will work with you to create a customized delivery of infrastructure services that suits your company's needs.
Hybrid Solutions: You have the option to spin up your virtual machines in the cloud on the same private network as your physical equipment. This mix and match solution offers the most flexibility with high speed connectivity that is unmatched by what's available to a business with on-site colocation.
Compliance
Colocation is a great option if you have compliance requirements to meet, because it transfers the costs of audit fees, labour and risks to the colocation facility. Data centres are SOC certified and located in purpose built facilities.
Service Level Agreements (SLA): When you choose colocation with a data centre it comes with an exceptional SLA, guaranteeing uptime and providing peace of mind for both you and your customers
Disaster Recovery: A disaster can be anything from a natural disaster to an internal failure and results in huge financial losses due to downtime, the re-allocation of resources and damage to your reputation. Having your infrastructure off-site provides you with another layer of security with the options to leverage the cloud for backup and replication solutions.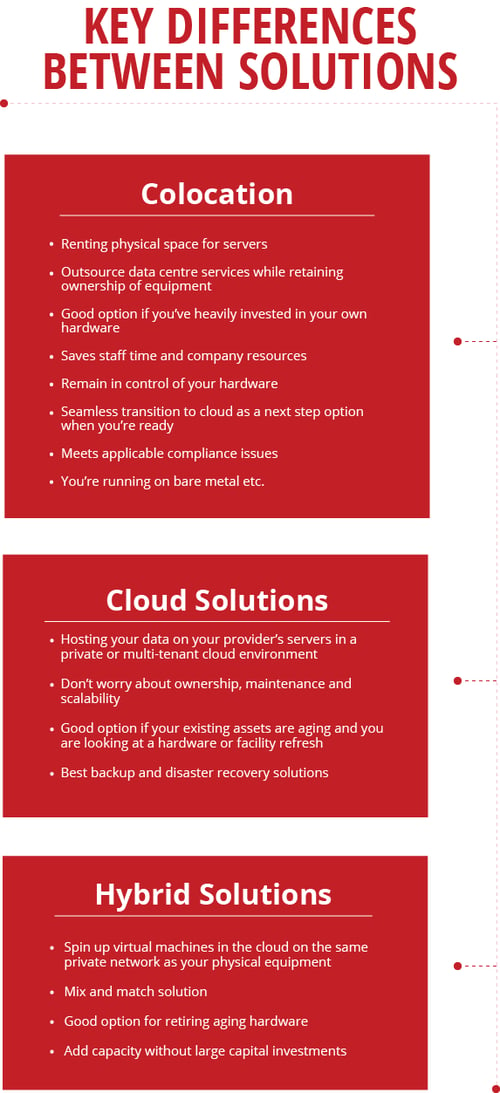 Growing Collaboratively Through the Cloud
Rocky Mountain Equipment (RME) recognized a need to modernize their IT service delivery and prepare the organization for new and innovative services to offer its staff, dealers and end user clients. Faced with the prospect of a major IT infrastructure upgrade for core servers, network and storage, RME reached out to Whipcord, its existing colocation provider, to learn how they could help.