It's here!
NEW
Veeam Backup for Microsoft Office 365 1.5
Mitigate the risk of losing access to email data and ensure Availability for Office 365 users. With version 1.5 and existing email recovery technology, users can increase scalability, take advantage of powerful automation and self-service restore, and expand platform support.
You can now securely back up Office 365 email data with this solution, quickly recover individual mailbox items and efficiently perform eDiscovery of email archives. It's also integrated with Veeam Backup & Replication so you can back up hybrid-cloud environments and migrate mailbox data between Office 365 and on-premises Exchange.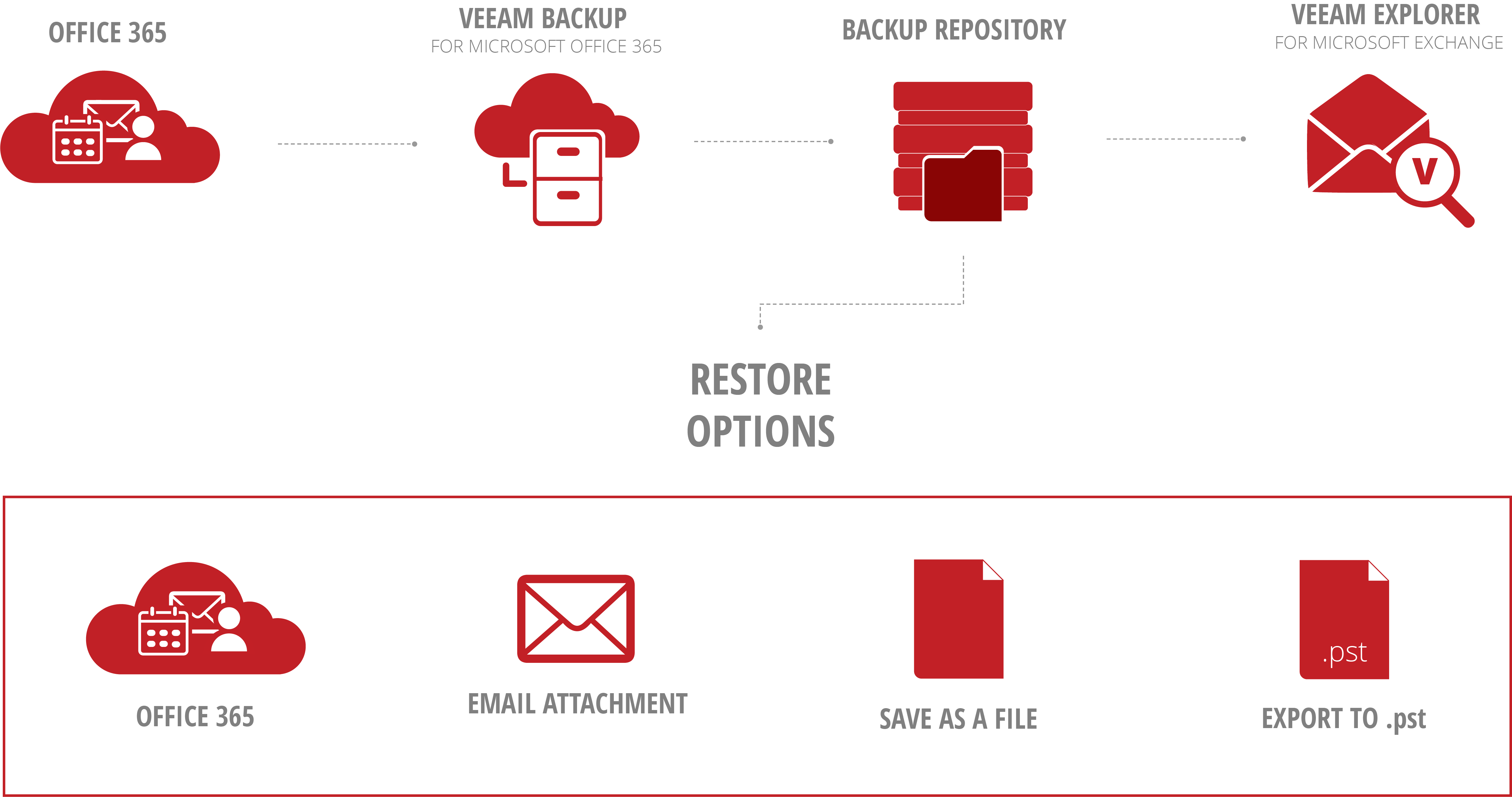 Key technology features:
Backup Office 365: Retrieve Office 365 Exchange Online mailbox items from a cloud-based instance of Office 365 and uniquely back up this mailbox data into an archive database based on Extensible Storage Engine (ESE).
Restore Office 365 email, calendars and contacts: Quick search and recovery of individual mailbox items residing in either archived Office 365 content or on-premises Exchange backups. Mailbox items can be restored directly to an Office 365 mailbox, an on-premises Exchange mailbox, saved as a file, emailed as an attachment or exported as a PST.
eDiscovery of Office 365 email archives: Leverage the familiar, advanced search capabilities and the flexible recovery and export options of Veeam Explorer for Microsoft Exchange to perform eDiscovery on Office 365 email archives - just as easily as you would with an on-premises Exchange server backup.
Want to learn more? Register for our webinar with Veeam on building a cost effective disaster recovery plan and learn more about the key components and challenges Veeam Backup for Microsoft Office 365 will solve:
At Whipcord, we pride ourselves on offering innovative solutions to our customers' critical business problems. Your data will be protected in our flagship Tier 3 designed data centre - a dedicated, purpose built facility in a low risk location.
COMING SOON: SharePoint Online and OneDrive for Business support in Veeam Backup for Microsoft Office 365 v2!
Also check out our previous blog on Veeam for Physical, Endpoint & Cloud!